Bathrooms
Bathrooms, Showers & Washrooms; Your Place to Relax
The bathroom is a pillar of luxury within the home, offering a safe space to unwind and enjoy relaxing personal time. An essential haven that plays a major role in the start and end of each day, the design of your bathroom is in a way an extension of your personality and an opportunity to visually express yourself.
With decades of experience providing for trade and DIY, The Plumbline, with their sister company Boys & Boden, are experts when it comes to supplying exceptional bathrooms to rejuvenate homes. Boasting luxurious showrooms in locations across Mid Wales, Shropshire and Cheshire; we showcase bathroom collections in a multitude of styles, from the UK's most trusted suppliers. Visit your nearest Boys & Boden or The Plumbline store to explore.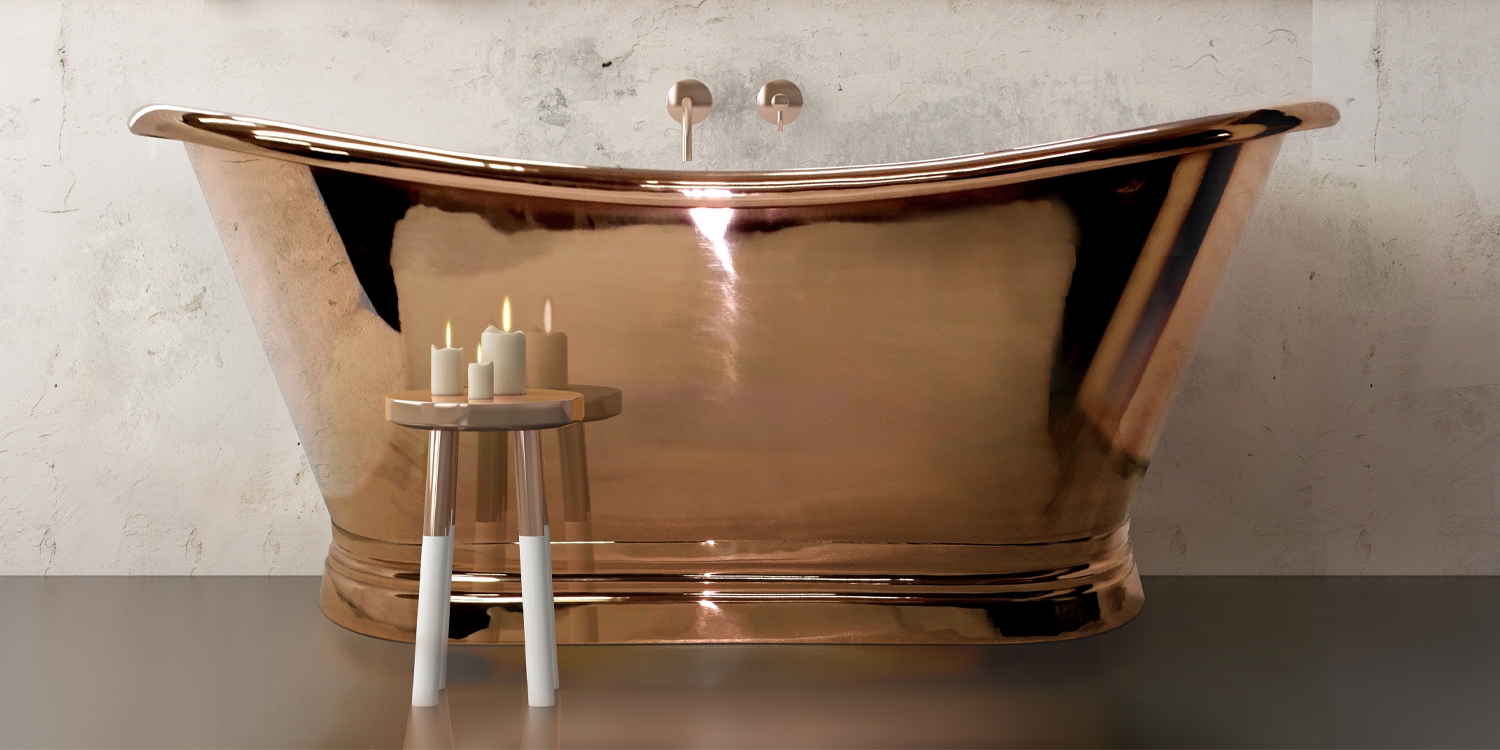 The centrepiece of any bathroom is, of course, the bathtub. A crucible for luxury and a haven for the invaluable commodity that is personal time; finding the right bath is of huge importance to complete your perfect bathroom aesthetic.
At The Plumbline, our extensive selection of bathtubs encompasses any style you desire. Whether you are looking for a contemporary or traditional design; our collections have it all. You can find luxurious deep baths for those who want an indulgent soak, large spacious baths for an immersive experience or small quaint baths that efficiently utilise space, along with everything in between. Only stocking the most trusted bathroom suppliers, our partners include BC Designs, Britton, Burlington, Clearwater, Royce Morgan and more.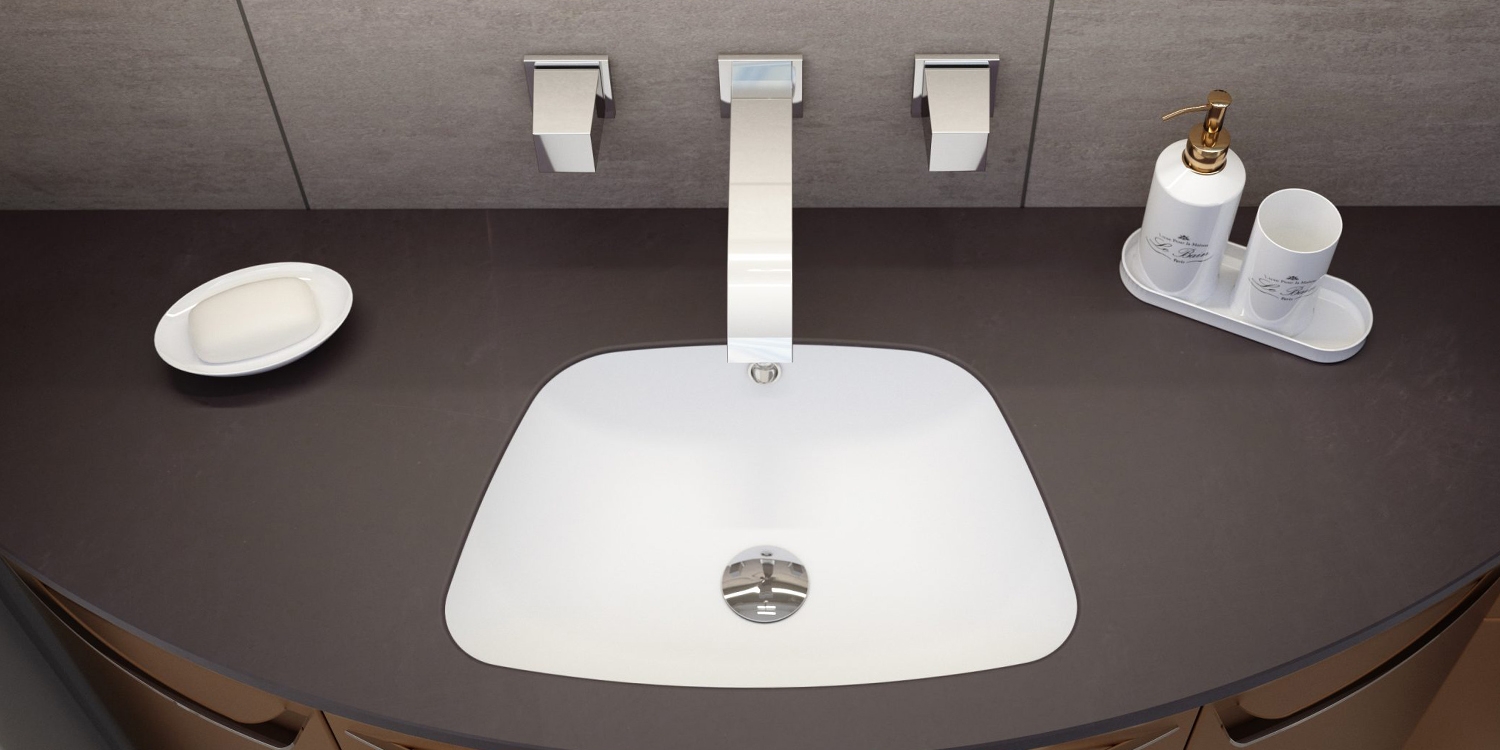 A focal part of the bathroom that is most often interacted with, taps, faucets and basins can have a major influence on your design scheme. Stocking thousands of different styles of taps and faucets; whether you are searching for traditional brassware, a sleek contemporary unit or an alternative quirky system to make a real stand out feature, The Plumbline has the solution for you.
Patiently waiting to compliment your chosen taps and brassware, are The Plumbline's outstanding selection of bathroom ceramics and basins. Ranging from sophisticated wall-mounted options that help to efficiently utilise space, to proud free-standing options that demand attention, creating your dream bespoke bathroom is easier than you may think.
Partnering with only the top modern manufacturers, including Abode, Bayswater, Bristan, Flova Francis Pegler and Vado to name a few, you can be assured of the highest quality available when dealing with The Plumbline.
Now a cornerstone of contemporary bathroom design, showers and showering spaces are a paramount component for the overall aesthetic in modern bathrooms. Increasingly popular due to the combination of convenience in everyday use and resourceful utilisation of space; naturally, innovation has led to the creation of breathtaking units and systems that complete any bathroom.
Elegant in both their look and function, there are powerful and reliable modern shower solutions to suit any budget, space or hot water system. At The Plumbline, we stock several thousand different shower units or parts; from pumped electric showers to overcome low-pressure systems, thermostatic electric showers for unbeatable temperature control, to top of the range digital showers that bring a high-tech touch to your daily routine. Proudly partnering with industry leaders including Arysto, Lakes, Roman, Sommer and Wedi, our shower collection is second to none.
In addition to supplying outstanding showerheads and outlets, The Plumbline also supplies everything you need to complete your shower space from panelling, board systems, wastewater systems and more. Stocking well-known brands such as Bushboard, Fibo, Mermaid, Stuart Turner and multiple other top manufacturers.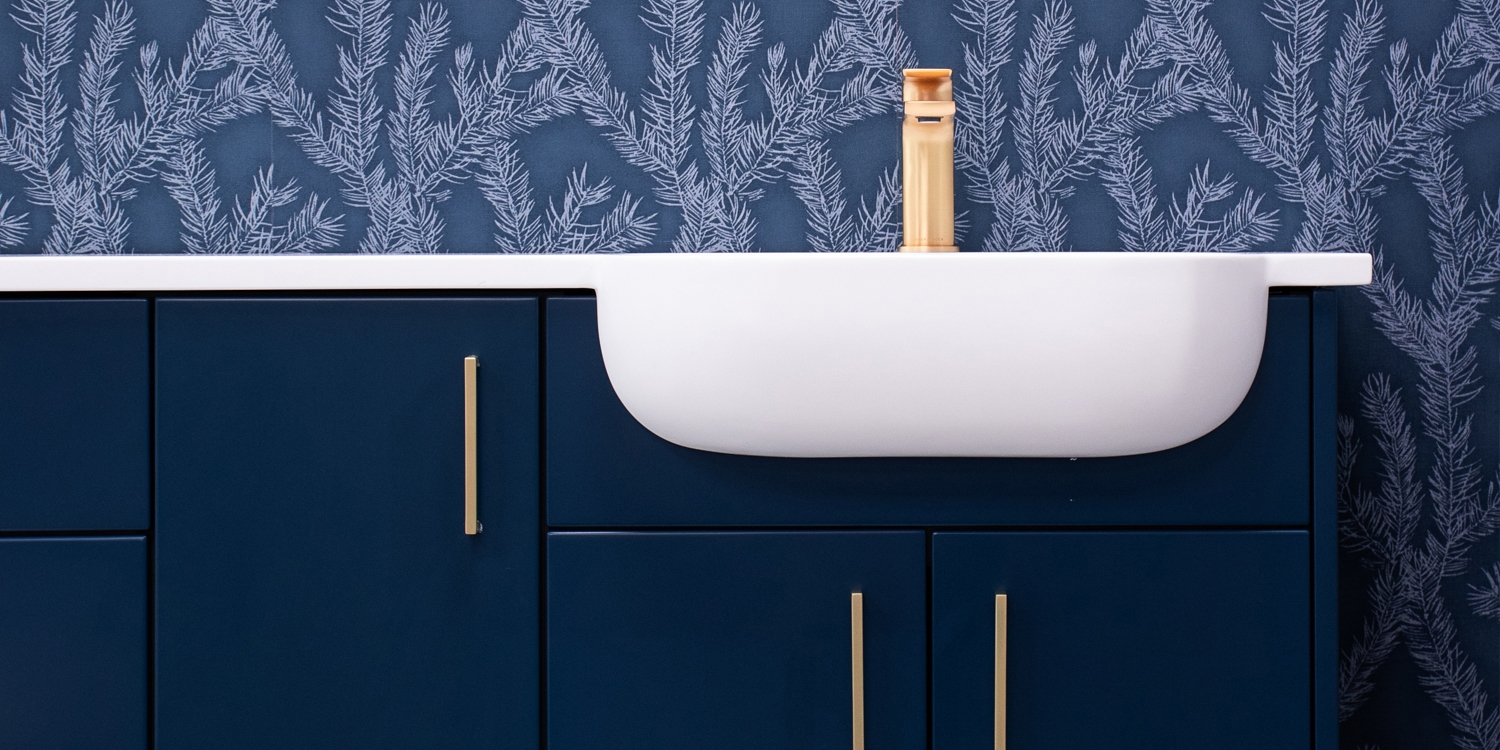 To complete a bathroom and make it the true centre of luxury within a home, you will require the addition of style-complimenting fitted bathroom furniture, bathroom storage and bathroom worktops. With the use of the correct style of bathroom furniture and accessories, a bathroom can be elevated from being just another room to being a truly special space with its own character and identity.
At The Plumbline, we stock an incredible collection of bathroom furniture and accessories from only the best suppliers in the industry including HiB, Miller, Redroom and Roper Rhodes among others. Explore what we have on offer to help you actualise your dream bathroom, either on our online store or in your local branch.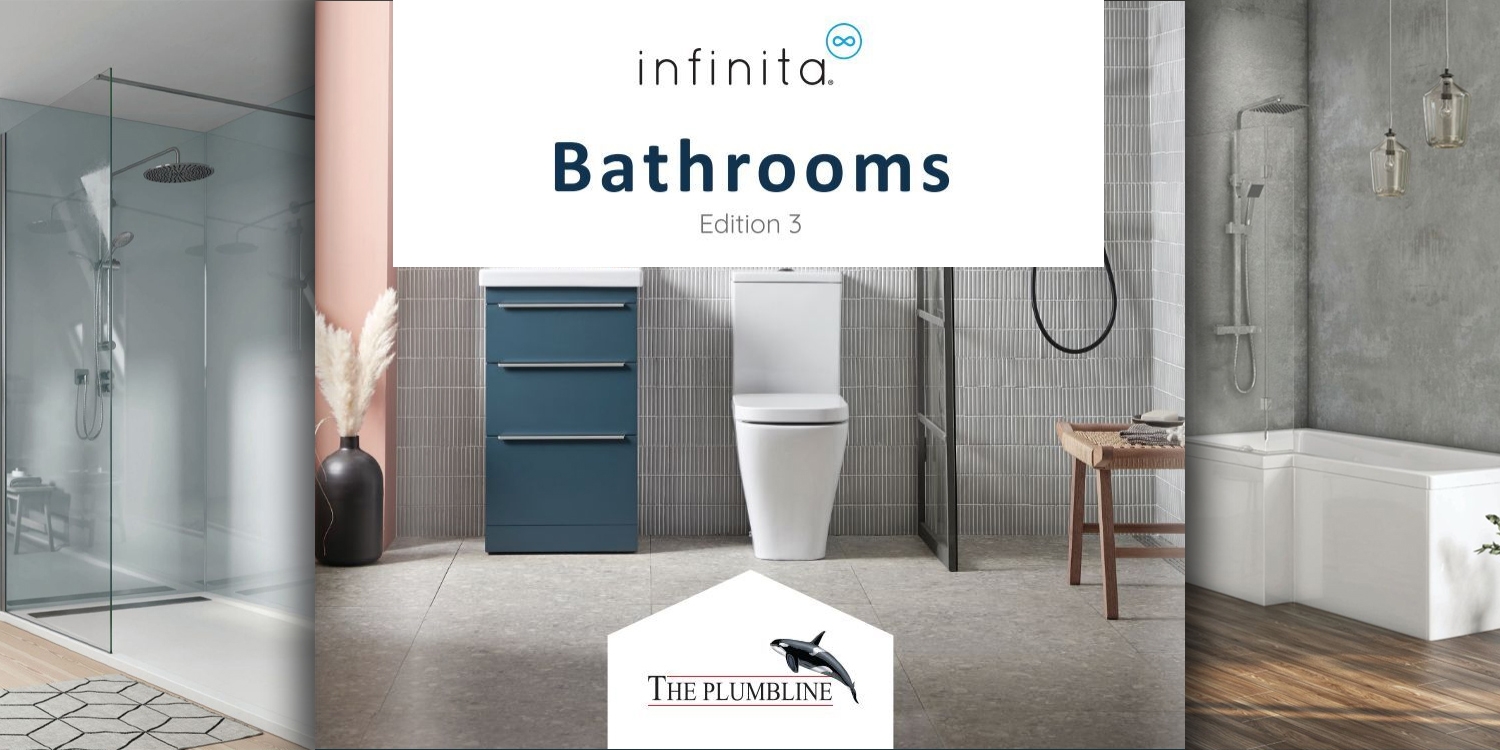 The Plumbline is home to the Infinita collection, an exclusive catalogue of quality products that offer a comprehensive range of bathroom solutions. The Infinita collection of products can only be found at The Plumbline and feature a diverse array of styles and aesthetics, for all tastes and preferences. The latest Infinita Catalogue can be explored here.
Free Local Delivery, Within 30-Mile Radius of Branch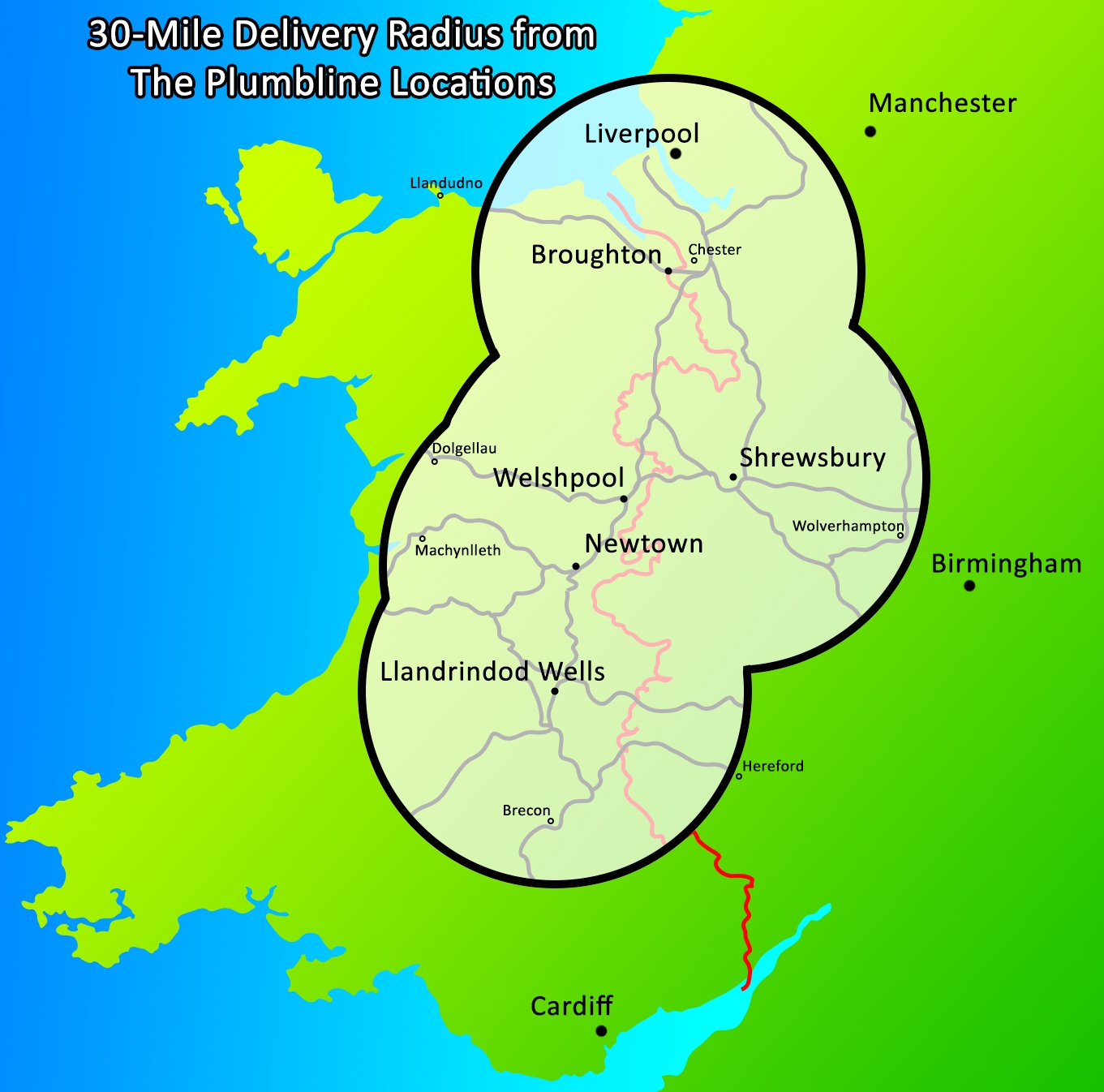 With five branches across Mid Wales, Shropshire and Cheshire, The Plumbline showrooms include stunning displays, accompanied by helpful staff, to provide invaluable design inspiration. Even better, any address within 30-miles of The Plumbline's showrooms is eligible for free delivery. This helpful map highlights all areas included within our free delivery range.

Free Design Consultation at Any Plumbline Showroom
Along with providing high-quality bathroom, kitchen, plumbing and heating products, The Plumbline also offers free in-branch design consultation. Our knowledgeable staff can help you find the specific interior style you desire for your bathroom, recommending brands and ranges that meet your brief and budget. In addition, in-branch customers are also eligible for cash and credit accounts to help with payment.
Click here to see the branch locator map and find your nearest showroom.