Want to transform your bathroom? Selecting the perfect fitted bathroom furniture can make a huge difference to the way the room looks and feels.
Aside from making a practical addition to your home, contemporary furniture can tie a design scheme together, providing the perfect finish for your bathroom.
Here at The Plumbline, we are committed to providing you with everything that you need to create your dream bathroom. Carefully selecting furniture that is intelligently designed to flawlessly combine ergonomics, functionality, style, and – most importantly – affordability.
Explore our online collection of modular and fitted bathroom furniture today. We're confident that you'll find the perfect pieces for your space and budget.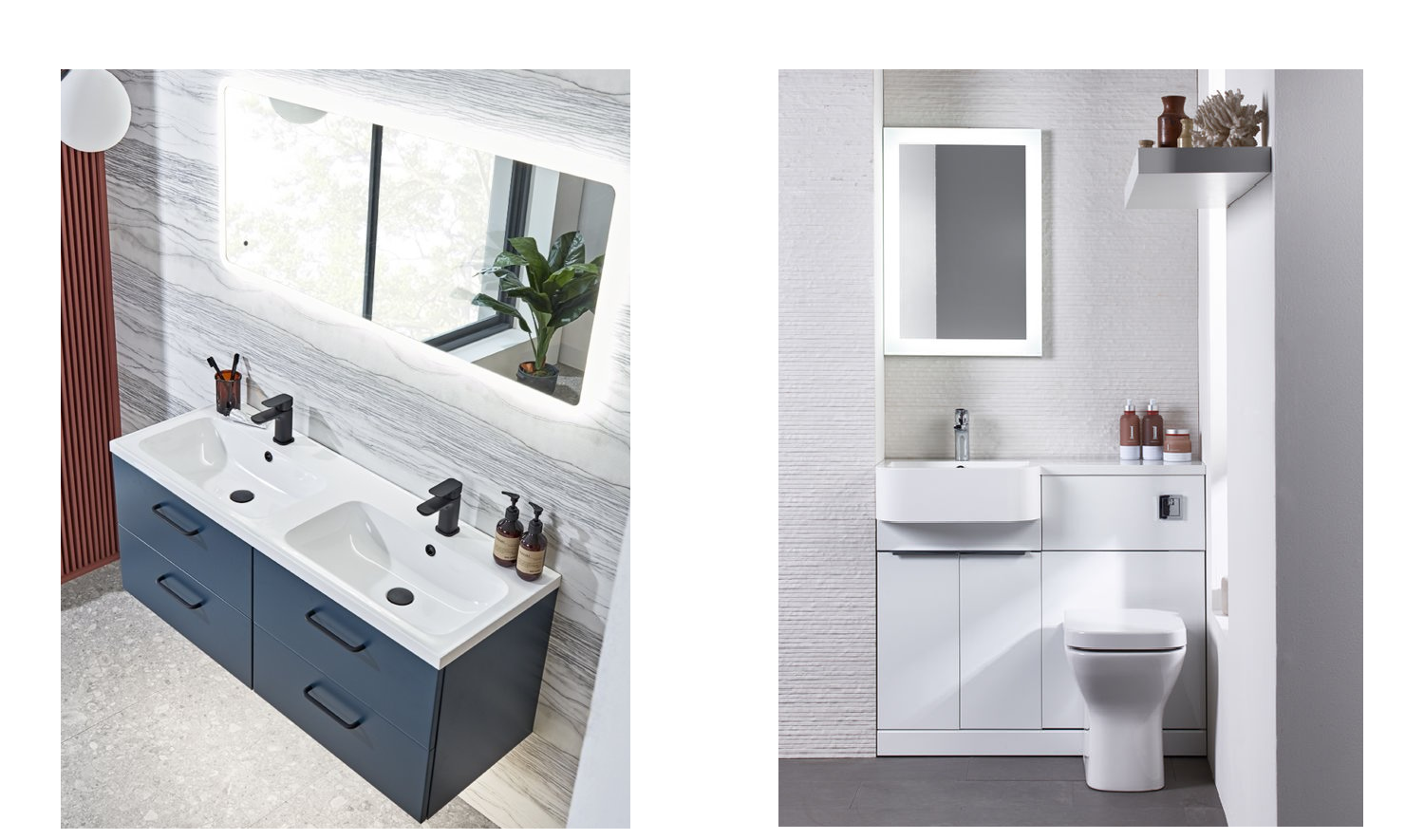 Furniture to suit every bathroom design
Working with the best designers and manufacturers in the industry, we pride ourselves on only supplying the highest quality fitted and modular bathroom furniture here at The Plumbline.
Fitted bathroom furniture provides a place to store toiletries, towels, and other bathroom essentials. It can also be skilfully installed to conceal pipes within cupboards to reduce visual clutter. On top of giving your room a neat finish, fitted furniture can make it easier for you to create a soothing space – perfect for relaxing soaks and refreshing showers.
Modular furniture is much better suited to larger bathrooms, with space in abundance. Unlike fitted units, there are no restrictions on where individual pieces can go. They can be freestanding or wall-hung, supplied with drawers or doors, or you can mix and match and shuffle them around to create your ideal layout.
Unrivalled in our selection, we have over 1000 pieces of bathroom furniture available. So, regardless of the shape, size, or design style of your space, we can help make your dream bathroom a reality.
Continuously on the lookout for the latest trends, we ensure that our contemporary furniture is exactly that. Meanwhile, our collection of traditional furniture is only traditional by design, crafted with the latest innovative practical solutions.
Every unit in our collection has been designed and crafted to add an extra level of practicality and its own unique stamp to your bathroom space. Purposely built to be both versatile and durable, our collections of Basin Furniture Units, Floor Mounted Units, Tall Cabinets, Vanity Cabinets, WC Units, and Worktops include some of the best bathroom furniture available.
Order bathroom furniture today
Whether you're looking for modular pieces to create a stunning look in your bathroom or fitted furniture that maximises space and suits the requirements of your family and home, The Plumbline has you covered.
Simply browse our range of contemporary and traditional bathroom furniture and identify the items you're missing. If you're spoilt for choice, use the filters on the left-hand side to help narrow your options down.
Once you've found the perfect furniture for your bathroom, add it to your basket and proceed to the checkout – it's as easy as that. We'll then parcel your products up, ready to be delivered to your home address or nearest store. If you're unsure where that is, use our branch locator.
Get in touch
If you have any questions about the fitted and modular bathroom furniture we stock here at The Plumbline, we'd love to hear from you.
Our team is always on hand to help and will happily provide you with the information you need to be able to make an informed decision.
Either give us a call on 01938 55 77 33 to speak to one of our sales executives, fill out our online enquiry form, or contact your local branch.