Toilet Seats
Want to give your toilet a new lease of life? Whether it be your downstairs loo, family bathroom or en-suite, we have all bases covered here at The Plumbline.
Our toilet seats come in an array of traditional and contemporary designs – not to mention a choice of colours – and are the perfect complement to your bathroom interior.
So, why not take a look at the collection below and find the ideal replacement for your toilet?
A variety of toilet seats
Although toilet seats are a bathroom neessity – built for comfort and convenience – there's no reason why they can't add some creative flair to your space, too.
Within our online range of traditional toilet seats, we provide everything from crisp whites and wood effects to modern classics that are guaranteed to brighten up your bathroom and suit the décor.
Solid oak and wooden toilet seats typically give your bathroom a luxurious feel, whereas acrylic designs are better suited to contemporary spaces. Both are super simple to maintain – only requiring a quick wipe down every so often.
You'll discover numerous options when selecting a replacement toilet seat – including soft-close lids, as well as handles and hinges in an assortment of finishes. Whatever it is you need, you're bound to find it here at The Plumbline.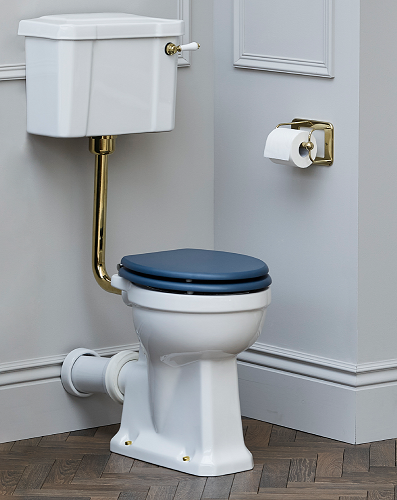 Need to replace your toilet seat?
With a range of traditional toilet seats and fittings available, The Plumbline is the place to visit for all your bathroom needs.
We are delighted to supply replacement seats from well-known brands, including Bayswater, Burlington, Silverdale and Twyford. Whilst we can assure you that these are manufactured to an exceptionally high quality, we also guarantee some of the most competitive prices around. That means you can purchase a new toilet seat that matches your interior décor perfectly, without spending a fortune!
Simply browse the range of toilet seats we have in stock within our traditional sanitaryware collection and identify the most suitable one for your needs. Once you've found it, add it to your basket and check out.
Depending on your chosen toilet seat, you can select UK delivery or click and collect. Please note, some of our products are 'click and collect only', meaning you'll need to pick them up from your local store once they arrive. If you're unsure where that is, use our branch locator to help.
Get in touch
If you have any questions about our traditional toilet seats and fittings, or you'd like to make an enquiry, you're more than welcome to contact us at any time. Our experts are always on hand to help and will be more than happy to share their expertise.
To discuss your requirements with our sales team, call us on 01938 55 77 33. Alternatively, send us a message by filling out our online enquiry form today. A friendly member of staff will get back to you as soon as possible.