The cold weather is a major risk to your plumbing system. Luckily, The Plumbline has made a blog to help you avoid common plumbing issues that may occur during the colder months.
Frozen Pipes
During the winter months, the pipes that provide your water supply are vulnerable to freezing. This often occurs in areas where pipes are exposed or uninsulated. Water can freeze in the pipe, turning to ice, which expands and increases pressure. This can cause pipes to crack, leak and burst, causing bigger plumbing issues.
You will know when your pipes have frozen by testing the water, the water will display a light flow or no flow at all.
If you are in a situation where your pipes have frozen, make sure you leave water exits (such as taps) on so the water can run out as it thaws.
You can also apply direct heat onto the frozen area, you can achieve using household items such as hot water bottles and hair dryers.
It is advised to get a plumber to check for any major pipe damage and replace or repair the section where the pipe is damaged following freezing pipes.

Water Heater Failure
Everyone is reliant on their heating system during the winter, and it is more likely for your heater to break down when they are working at maximum output. Whether you have a log burner or a fire, it is still important to ensure all your heating systems are in full working order.
Take action to prevent failure of your water heater by insulating it during winter, this helps the tank full of warm water retain its heat, so it is not escaping or being overworked.
You can buy insulation HERE.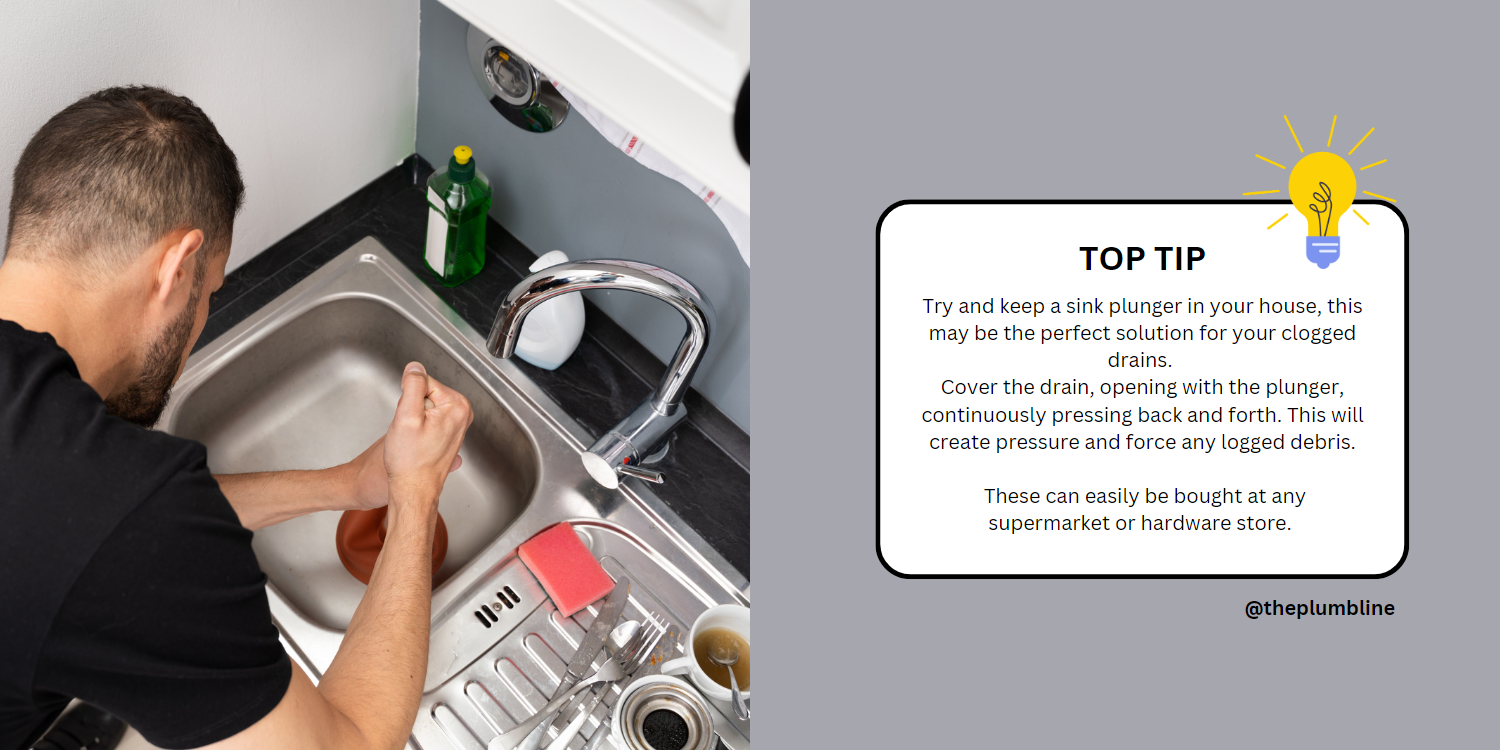 Clogged Drains
During the lead-up to the festive season, it is likely you will be using your kitchen and bathroom sinks increasingly more often. Common items such as grease, hair, soap and food clog your drains.
To ensure your sinks are in full functioning order this winter, be conscious of what you are washing up in your sink. When washing dishes, remove any wastage food using the food waste bin, leaving little to no debris.
If you are disposing of cooking oil, fat, or grease, do not use the drains. While it might seem convenient, they can solidify within the pipes and cause further blockages.
In order to unclog your drain, you can use this solution to ease the blockage:
- ½ cup of baking soda
- ½ cup of distilled vinegar
- Pour a kettle of hot water into the drain, breaking down any blockage
HOW CAN THE PLUMBLINE HELP YOU?
In an emergency with your plumbing this winter, find all your supplies at The Plumbline. Supplying an array of heating fittings and accessories to suit your requirements. All our stock is appropriate for domestic or trade users.
Get in contact with us or visit our nearest branch for more information.
Use our Branch Locator.